Since 2007, we are a shop selling coffee, tea and accessories in the Old Town of Tallinn
Kohvieri is a family company operating in the Old Town of Tallinn since 2007, specializing in the sale of coffee, tea and accessories. The location of their shop in the old town brings out a unique and charming atmosphere and helps to create a special experience for all coffee and tea lovers.
Kohvieri the goal is to offer high-quality coffee and tea and a wide range of accessories that support their preparation and enjoyment. In their assortment, you can find different coffee beans from different regions of the world, which are carefully selected and roasted to ensure a rich taste and aroma. In addition, they offer a wide variety of teas, from classic black teas to exotic green and herbal teas.
Kohvieri has become a local icon of the old town over the years, offering a versatile and high-quality selection to all coffee and tea lovers. Their long-term experience and commitment to quality and service have helped them maintain a loyal clientele and continue to operate successfully in the Old Town for over a decade.
Kohvieri is open
M-Sat 10.00-18.00
Sun 10.00-17.00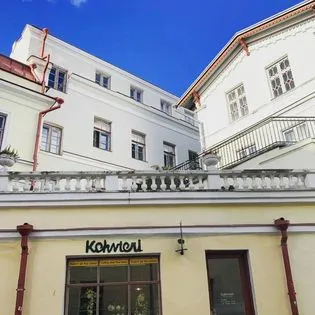 Kohvieri the family business is known for its personal service. Their staff are experts in coffee and tea making and are always ready to share advice and recommendations with customers. They can help customers choose the right coffee beans and tea varieties according to their taste preferences and provide guidance on how to make the perfect drink at home.
In addition to the selection of coffee and tea, Kohvieri also offers various accessories related to the preparation and enjoyment of coffee and tea. Among them, you can find various coffee grinders, press jugs, teapots, filters and much more that help create the perfect coffee and tea experience.